Aby Šárka mohla dát bolesti sbohem
{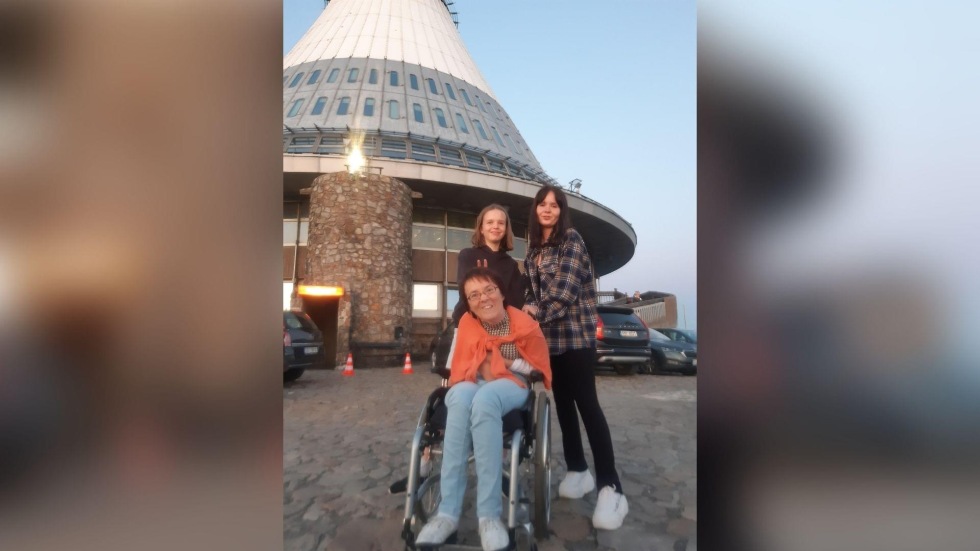 }
Aby Šárka mohla dát bolesti sbohem
Amount raised 158 094 Kč of 137 900 Kč goal
Left -130 days
115 % z původního cíle
The campaign has ended 08. January 2022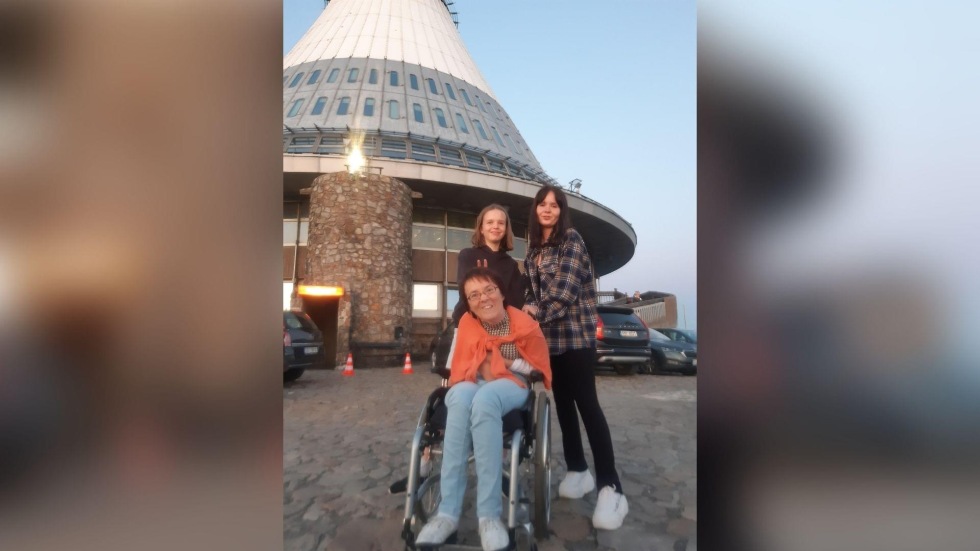 Je mi 53 let a celý život jsem na invalidním vozíku. Vystudovala jsem psychologii na UK v Praze a 24 let jsem pracovala jako klinický psycholog na psychiatrii v PN Bohnicích. Do svých 15 let jsem procházela intenzivní rehabilitací, a proto můj fyzický stav byl uspokojivý.
Zvládla jsem studium, cestování, zaměstnání, svatbu, těhotenství a porod dvou krásných zdravých dcer. No prostě krásný běžný a nádherně naplněný lidský život. Zpočátku mi na rehabilitaci nezbýval čas a ani jsem nepociťovala velkou potřebu. Ale časem se začalo projevovat tuhnutí zad, svalů a kloubů a s tím přicházely i bolesti.
V současné době jsem vděčná za každou možnost rehabilitace. Celý den totiž sedím na mechanickém nebo elektrickém vozíku, který ovládám bradou a jsem velmi často v předklonu, protože vše, co dokážu udělat, dělám ústy např. ovládání mobilního telefonu, malování obrazů... Proto to tuhnutí a bolesti. Už se ani nedokážu přetočit z boku na bok.
Našla jsem vhodný způsob léčby - tzv. neurorehabilitaci, po které by se mi velmi ulevilo. Zdravotní pojištovna ji ale nehradí.
Dvacetidenní intenzivní rehabilitace přizpůsobená přímo pro mě stojí 137 900 Kč. To si z našeho rodinného rozpočtu nemůžeme dovolit.
Zejména v současnosti, kdy jsem přišla o zaměstnání, a tedy i o důležitý finanční příjem. Manžel pracuje na částečný úvazek, aby se mohl starat i o mě.
Proto se s důvěrou obracím na vás s prosbou o finanční příspěvek na výše zmíněnou rehabilitaci.
Velmi mi pomůže jakákoliv vybraná částka z celkové sumy.
Děkuji.
_____
I am 53 years old and have been in a wheelchair my whole life. I studied psychology at Charles University in Prague and worked as a clinical psychologist in psychiatry at mental hospital Bohnice in Prague for 24 years. Until I was 15, I was undergoing intensive rehabilitation, so my physical condition was satisfactory.
I managed, to study, travel, work, marriage, pregnancy and the birth of two beautiful healthy daughters. I lived a wonderfully fulfilled life. But over time, the back, muscles, and joints began to stiffen, and pain came with it.
I am currently grateful for every rehabilitation option. I sit on a mechanical or electric wheelchair all day, which I control with my chin. Therefore I am very often in a forward bend, because everything I can do, I do with my mouth: controlling a mobile phone, painting pictures. That's why it's freezing and painful.
I found a suitable way of rehabilitation, the so-called neuro physiotherapy, after which I would be very relieved. However, the health insurance company does not pay for it.
Twenty-day intensive rehabilitation adapted directly for me costs 137,900 CZK. We can't afford that from our family budget.
Especially at the present time, when I lost my job and therefore my important financial income. My husband works part-time so he can take care of me too.
Therefore, I turn to you with confidence for a financial contribution to the above-mentioned rehabilitation.
Thank you very much.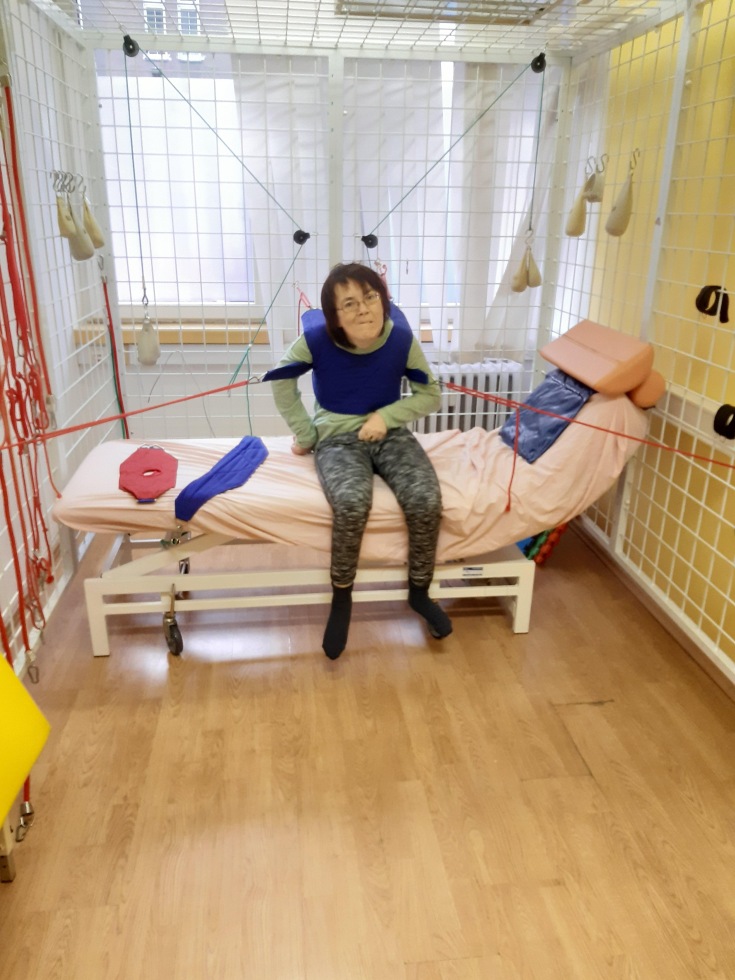 Už cvičím ! I'm already rehabilitating
04. 01. 2022
Jsem moc ráda, že vám všem můžu ukázat první den mé rehabilitace ! Moc za možnost této rehabilitace děkuji.
Šárka
I am very happy to show you all the first day of my rehabilitation! Thank you very much for the possibility of this rehabilitation.Sarka

Opět vás všechny zdravím. Greetings to you all again.
21. 12. 2021
Po delší době se opět ozývám s velkým poděkováním za vaši štědrost. Za neuvěřitelně krátkou dobu jste mi darovali možnost, prostřednictvím vámi darovaných financí, absolvovat rehabilitaci, kterou moc potřebuji a na kterou se velmi těším. Díky vašim darujícím srdcím se mi bude lépe sedět, lépe hýbat, nebudou mě tolik bolet záda a nohy... No zkrátka se budu cítit daleko lépe. A za to vám patří mé upřímné a obrovské DÍK !!!
Původně zveřejněnou částku 137 900 Kč mi, po přeložení termínu do nového roku, zvýšili na 155 500. Peníze, které se vyberou nad potřebnou částku 155 500 Kč, použiji jako finanční základ pro další následnou rehabilitaci, která už není tak intenzivní, ale měla by mě udržovat v přijatelné kondici. Tento týden musím zaplatit výše zmíněnou částku, protože 3.1.2022. už začínám rehabilitaci. Tato sbírka ale poběží ještě téměř dvacet dní. Finance vybrané v tomto období tedy použiji na další, následnou rehabilitaci.
Ještě jednou vám všem moc děkuji a přeji vám požehnané vánoce a radost z narozeného Krista ať vás provází po celý nový rok 2022.
Šárka
After a long time, I would like to thank you again for your generosity. In an incredibly short time, you have given me the opportunity, through the funds you have donated, to undergo the rehabilitation that I really need and which I am very much looking forward to.
 Thanks to your donating hearts, I will sit better, move better, my back and legs will not hurt so much ... Well, in short, I will feel much better. And for that you deserve my sincere and huge THANK YOU !!!
The originally published amount of CZK 137,900 was increased to CZK 155,500 after the deadline was postponed to the new year. 
I will use the money collected in excess of the required amount of CZK 155,500 as a financial basis for further follow-up rehabilitation, which is no longer so intensive, but should keep me in acceptable condition.
This week I have to pay the above amount because 3.1.2022. I'm starting rehab. But this collection will run for almost twenty days. I will use the funds collected in this period for further, subsequent rehabilitation.
Thank you all very much once again and I wish you a blessed Christmas and the joy of the born Christ to accompany you throughout the new year 2022.

Sarka

Přání. Wish.
29. 11. 2021
Přeji vám všem klidný a požehnaný adventní čas a děkuji za vaši přízeň a štědrost.
Šárka
I wish you all a peaceful and blessed Advent time and thank you for your kindness and generosity.

Šárka

"Šárko moc po letech zdravím a přeju,ať ti neuroRHB přinese úlevu!"
1 221 Kč — Markéta Žáková 5 months ago
373 Kč — Anonymous donor 5 months ago
1 000 Kč — Anonymous donor 5 months ago
2 311 Kč — Anonymous donor 5 months ago
1 500 Kč — Anonymous donor 6 months ago
2 000 Kč — Anonymous donor 6 months ago
"Přejeme ti také hezké Vánoce."
500 Kč — Šulcovi MB 6 months ago
"Šárko, hezké svátky a držím palečky!"
1 000 Kč — Saša 6 months ago
"Milá Šárko, ať je ti jenom líp! (vzpomínám na krásná devadesátá léta :) )"
1 000 Kč — Katka Brandejsová 6 months ago
"uzivej sestrenko"
1 221 Kč — David Elsnic 6 months ago